June 21 is a world-wide day of free music that started in France in the 1980s. There they call it Fête de la Musique, here we call it Make Music New Jersey, but it's the same celebration of music on the longest day of the year.
musiXplore participates this year with an evening of free music at the Ivanhoe Wheelhouse. Starting at 6pm, we feature Symmetry with JEM
At 6:50, next up is Scott Patire. Scott has been a pro musician in New Jersey for many years. This set will opens your ears to some of the more experimental sounds he has been cooking up.
Then at 7:40pm, we have a special treat: Nicolas Melmann has journeyed all the way from Argentina to make music with us. Nicolas has opened for great electronic musicians such as Alva Noto and Ryuchi Sakamaoto. His sound and light show is not to be missed.
musiXplore perennial favorites ArtCrime are onstage at 8:30. They will grace us with their take on Stravinsky's Rite of Spring, among other pieces.
Winding up the evening will be a performance by a new ensemble Sparse, composed of New Jersey musicians Dave Barry (violin), Richard Hruska (percussion), Paul Santucci (keys) and Gianni Intili (synth & Kaossilator). Their set will start around 9:20pm.
This will be a relaxed evening with plenty of time to meet the musicians. Come on down and hang with us!
From the April 21 concert, Pyxl8r (Ken Palmer) performs one of his untitled space music meditations.
You can view other performance from this concert: Piece #1, Piece #2, Piece #4 and Piece #5.
On the same date, Michael Sperone also performed three pieces that are on YouTube: Piece #1, Piece #2 and Piece #3.
Due to a sudden work emergency, Mike Hunter is not able to play this Sunday. Ken Palmer, his partner in the duo Electronic Memory, will play solo as Pyxl8r. Here is one of Ken's pieces:
Michael Sperone will still open with a set of his processed percussion.
Guitarist Peter Biedermann will perform with keyboard player Anthony LaMort. They are 2/3 of the New Jersey trio Serious Fun, but when performing as a duo they are Amalgamation.
Peter has influenced a couple of generations of NJ experimental musicians, including our November performers, Monkeyworks. He has led bands as diverse as Ping, White Light and Serious Fun. He has come full circle from the realm of electronic music back to acoustic guitar and is now using iPad apps for looping and sound enhancement. Here is Peter playing one of his solo guitar pieces:
Anthony Mark LaMort is an organist and harpsichord player, though he does also play piano. He does not sell his music because he does not believe it to be a product. However, he makes many of his pieces freely available on his web sites. Take a listen here for samples of his improvisations.
Opening for Peter and Anthony is Kinglog (Max Schoenbaum). Max is also part of the Makoshine Collective, a group of musicians from New Jersey, New York and Connecticut who stage concerts together. Max has a variety of his pieces available on SoundCloud, so you can get an idea of what his work sounds like.
Don't forget, we are putting on two shows this month: Electronic Memory on April 21 and this show with Peter, Anthony and Max on April 28. We hope to see you at both!
Electronic Memory is a duo composed of Mike Hunter on looped guitar/synth and Ken Palmer on synthesizer. Mike and Ken have performed at the Electro-Music Festival, the New Jersey Festival of Electronic Arts and the Event Horizon concert series, among others. They'll bring us their mind-expanding style of ambient space music.
Mike Hunter hosts a weekly program of ambient and space music on WPRB in Princeton NJ. Find out more about it here. His workaday title is "Principal Technical Architect – Cloud Realization", which has to be the coolest job name ever. He also performs solo under the moniker "Ombient".
Ken Palmer is a graphic artist and Photoshop wiz during the daylight hours, but after dark he morphs into a synth genius. One of his mods has been featured in Keyboard magazine and he performs as a soloist "Pyxl8r". He also runs a concert series in the Trenton area called Cosmic Coffeehouse. Some of his pieces are available for audition here.
Opening the show will be percussionist Michael Sperone. Michael is a published composer and a graduate from William Paterson University. He has some fascinating work that is processed through Max/MSP software to give cymbals a sound from another world. You can listen to more of his work here.
From the March 17 concert, If, Bwana (Al Margolis) performs "Many Many Flutes", accompanied by John Korchok on wind synthesizer.
You can view other performance from this concert: Fork and Waves, Frogfield and Massed Roses.
If, Bwana is the performance name for experimental music legend Al Margolis. Al has been an active composer, player and distributor of experimental music since the 80s. If, Bwana is an acronym for "It's Funny, But We Are Not Amused".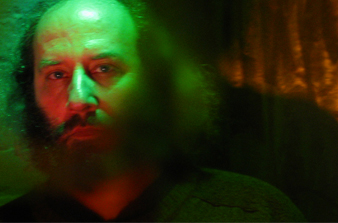 Al began when the main source of new music was cassette tapes, and his Sound of the Pig label sold thousands of pieces of music to avant listeners world-wide. Now his output is on CD and his label is Pogus Productions.
The music that he makes is evocative, with layers of voices and sounds that sound like the past and the future all at the same time. You can hear some samples here.
Recently, he has curated performers for The Stone in New York. He tours regularly in Europe to a very appreciative audience. You can read interviews with him by Paris Transatlantic and The Wire, two of the best journals in the world of new music. We are so fortunate to be able have him perform for us at musiXplore.
There will be an opening set by ArtCrime.
At our February 17 concert, we talked about the Make Music New Jersey program. This is part of a free celebration of music-making that takes place on June 21 every year in over 450 cities world-wide. All concerts are free and outdoors (weather permitting) and participation is open to both amateur and professional musicians.
MusiXplore is participating with an evening of music on the patio of the Ivanhoe Wheelhouse. Since the 21st is a Friday this year, we'll run from 6pm to 10pm. If you are an experimental musician or band and would like to play, please contact us at info@musixplore.org.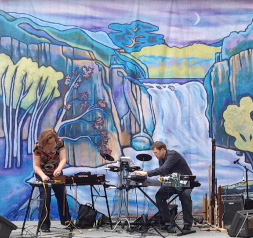 If you have a space where you would like to host an outdoor concert or show, you can be part of the celebration too. It could be your front yard or the sidewalk in front of your apartment. Of course, you should let your neighbors know. Maybe you want to organize a concert in your town square.
Make Music New Jersey is here to help you make it happen. Visit the web site here. You can subscribe to the site (link a the bottom of each page) to get news about what shows are happening, or you can click on the Contact Us tab to send a message about what kind of show you would like to host.
This is all about music by the people and for the people, so the more folks get involved, the more fun it will be.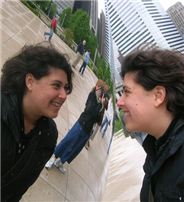 Keren Rosenbaum is a choreographic composer, cello performer, interdisciplinary musician and an educator, born in Israel in 1970. She started composing music at the age of seven, and later graduated from the Royal Conservatory in Den Haag, Holland. She is founder of the Reflex Ensemble, a unique collective of classical musicians, jazz musicians and actors, as well as lighting, sound, photography and video artists, all from Israel, Europe, and the US.
In her compositions, Rosenbaum employs pre-recorded soundtracks, live electronics, contemporary notation, and her signature "Invisible Score" conducting-via-earphones technique. While structured and choreographed, the music allows for a degree of freedom that both provides room for personal expression and demands a higher sense of aesthetic responsibility from each performer.
Read more about Keren and view videos of performances at her web site.
Keren will be joined by clarinetist Carlos Cordeiro. This show is a benefit for Rwanda Youth Music, joint effort between Musicians Without Borders and WE-ACTx to train HIV+ Rwandan youth to become music workshop leaders in ongoing weekly programs run by WE-ACTx for hundreds of HIV+ children in Kigali.