Beta Test Music played at musiXplore on November 17, 2013. Here is the theme to Teenage Mutant Ninja Turtles that they performed:
There are also videos available for the other pieces they performed: Still Alive from Portal, Necromorphs from Dead Space 2, and the themes from Romancing SaGa, DuckTales and Castlevania.
Guitarist David Beardsley played the same day, but that video has some technical problems we are cleaning up.
Our next performers have a different angle no matter which way you look at them. Take a brass trio (tuba, trombone and french horn), add a guitar. Interesting! But this isn't just any quartet. This is a group that grew up on Super Mario, so they pay tribute to the music of video games. Right there, you've got a sound we guarantee you aren't going to hear anywhere else!
You'll be hearing pieces like Necromorphs, which uses gameplay audio from Dead Space II and re-scores the theme to reflect a more traditional horror soundscape. Music from the video games Teenage Mutant Ninja Turtles II, Portal, and DuckTales re-orchestrated, re-arranged, and played by both live instruments and chip sounds, or lo-fi digital synthesis reminiscent of early generation video games. We might even hear new takes on some television theme music!
Beta Test writes: "Our goal as a group is to play music in and around video game culture. This music holds a high nostalgia factor, but much of it also stands up as interesting music that can be transformed. Beta Test Music puts our own imprint on the music we perform, whether by creating originals that fit alongside our arrangements, or by creating arrangements that feel like performed remixes and re-imaginations of the original material."
Here is a sample of Beta Test Music:
Opening for Beta Test Music is microtonal guitarist David Beardsley. A long time resident of New Jersey, David Beardsley is one of the New York area's foremost microtonal guitarists. Meditative and mesmerizing, his playing is steeped in Indian music and blues as much as it is the late 20th century minimalist tradition. You can hear a sample of his music here.
From the October 20, 2013 concert, Ben Neill performs an a piece from his upcoming opera about Douglas Engelbart, the Internet pioneer who invented the mouse.
There are two other music videos of this show available: Piece #1 and Piece #2 and 3. In addition, there is an interesting video of Ben talking about the history and future of the mutantrumpet, with news about the opera.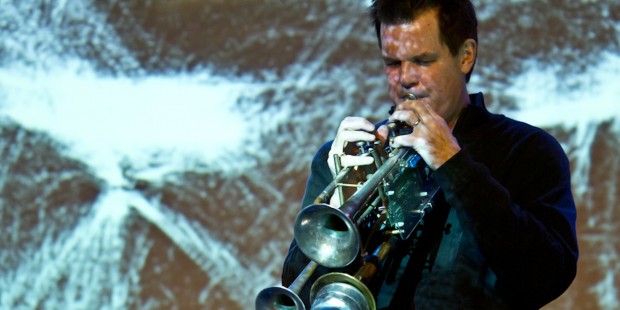 The next artist at musiXplore has such an stellar reputation, we don't have to say a thing about him. Not when there are quotes like this about him already:
A creative composer, genius performer, and inventor of the mutantrumpet. Time Out NY
Ben Neill is a musical powerhouse, a serious and individual talent. Time Out London
Ben Neill is using a schizophrenic trumpet to create art music for the people. Wired Magazine
Neill works with harmonies based on numerical relationships that produce spiritually powerful resonances. The result is trippy, otherworldly and seamlessly groovy. Interview Magazine
Calling Ben Neill a trumpeter is like calling Mr. Spock a frequent flyer … as vibrant as the galaxies beyond, both adventurous and artful. Boston Phoenix
Neill's astonishing mutantrumpet blends brass and computer with wit, beauty and solid musicianship. Village Voice
---
To hear samples of Ben's music, click on the Listen/Shop tab at musiXplore.org, then scroll down and click on the album covers. You can also buy advance tickets on the same page. The Ivanhoe is a small room, but we honor the advance tickets over latecomers at the door.
From the September 22, 2013 concert, Terrence McManus performs an improv.
There are three other videos of this show available. These are 3 movements of a long improvised piece: Movement #1, Movement #2 and Movement #3.
This concert was dedicated to the memory of Canadian poet and publisher Richard Truhlar who passed away on September 17, 2013.

musiXplore got a very nice writeup about the new season from critic Tris McCall of the Newark Star-Ledger. Click here to read the full story.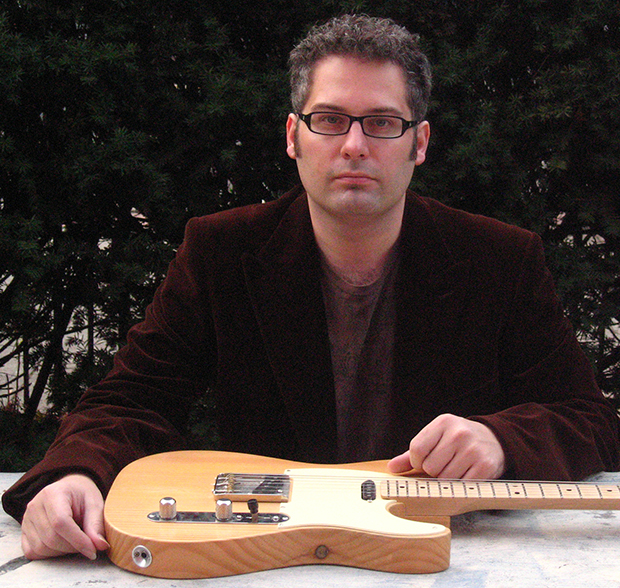 musiXplore is proud to present avant guitarist Terrence McManus on Sunday, September 22. Terrence has played with most experimental musicians in the New York area: Herb Robertson, Gerry Hemingway, Tim Berne, Kermit Driscoll and Ellery Eskelin, among many others. His 2010 EP "Brooklyn" showcases his melding of guitar with electronics. The New York City Jazz Record wrote of him "He can present simple ringing tones that shimmer and sooth, sounding not unlike a harp, or crush and cripple strings with the best of the noisy avant-gardists."
Terrence has performed at Carnegie Hall, the New York Guitar Festival, Jazz Festival Willisau (Switzerland), Jazzfestival Saalfelden (Austria), the New Orleans Jazz National Historic Park, and the inaugural month at John Zorn's The Stone. Terrence was featured in the book State of the Axe: Guitar Masters in Photographs and Words by legendary photographer Ralph Gibson.
The show begins at 1pm with an opening set by ArtCrime. All musiXplore concerts are held at the Ivanhoe Wheelhouse, 4 Spruce Street in the historic district of Paterson, NJ. Admission is $5 suggested donation.
MusiXplore is proud to present our second season. We have a great lineup of musicians this year, covering the range of free jazz, new classical and electronic styles and representing every place from the Pine Barrens in the south to the Hudson Valley in the north.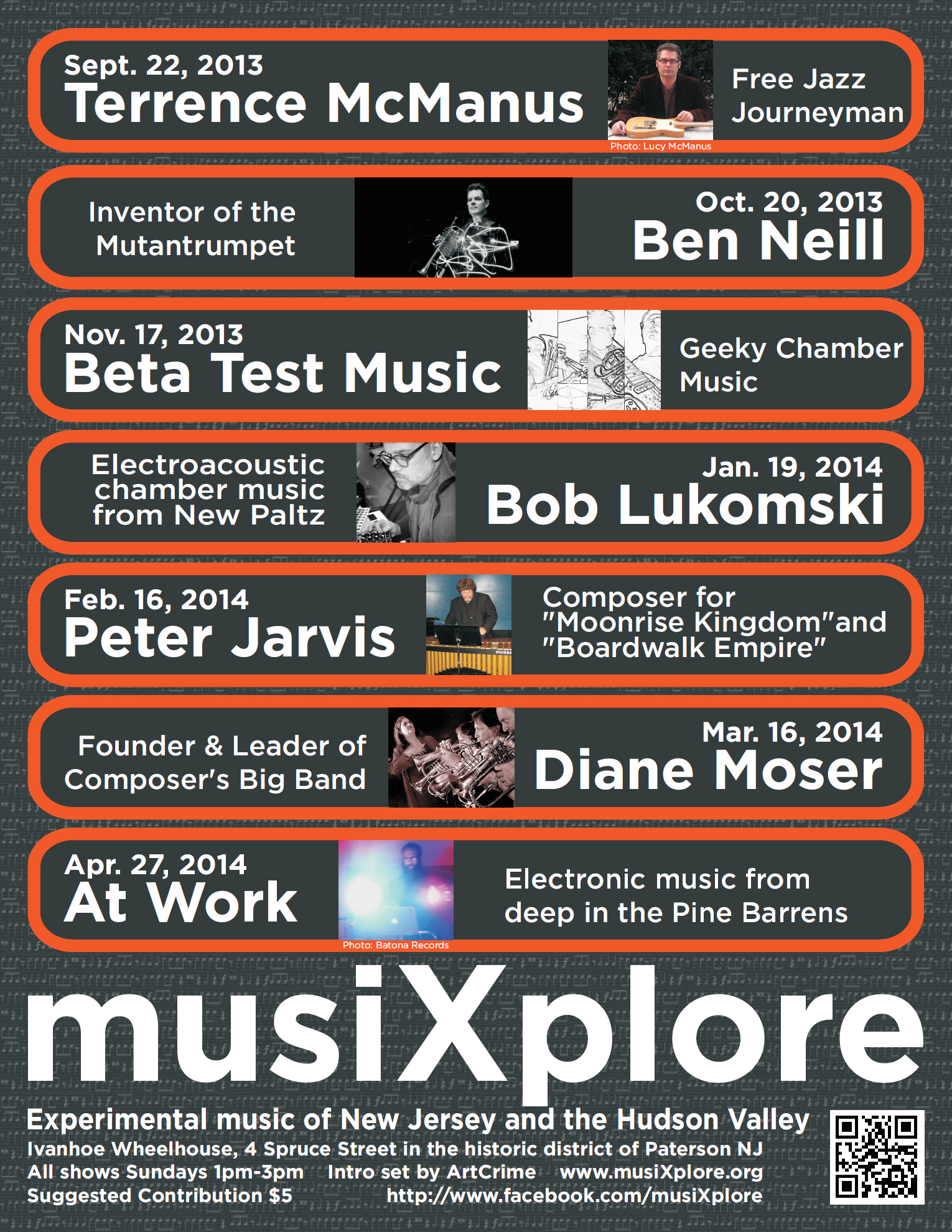 In September, we'll host Terrence McManus, a free jazz master from Jersey City. Terrence usually plays in the city with a who's who of experimental music, but we're luring him back out to Jersey to show us how it's done.
Ben Neill will be performing in October. Ben invented the Mutantrumpet, a fascinating hybrid of acoustic and electronic sound-making. Ben has a great style combining avant melodies with electronic beats, you're gonna love it!
November's guest ensemble is Beta Test Music. This central Jersey/Philly group orchestrates unorthodox musical material such as video game music into a unique chamber music performances.
Hailing from New Paltz, composer Bob Lukomski will grace our stage in January. Not only does Bob co-ordinate the Coterminus Collective, a group of Hudson Valley experimental musicians, he runs the Earwaker performance space and teaches at SUNY New Paltz.
We are honored to be able to present renowned percussionist Peter Jarvis in concert in February. Peter Jarvis is winning acclaim as a movie and television composer. He teaches at William Paterson University and Connecticut College.
In March, our special treat is New Jersey composer Diane Moser. Diane is founder and leader of the Composer's Big Band that performs regularly at Trumpets in Montclair.
Finally, to end the season on a high note, we are bringing At Work (Todd Steponick) all the way from the Pine Barrens. Todd also runs Batona Records, south Jersey's best-known record label. This will be an afternoon of spooky electronica combined with danceable beats.
We picked the right day for a celebration of the start of summer: hot and sunny with a strong chance of music! We enjoyed performance by Scott Patire, Symmetry (Jose Murcia), ArtCrime, Sparse and Nicolas Melmann, who came all the way from Argentina to perform for us.
It was a full house by the end of the evening. Thank you to everyone who dropped by, to all the musicians who performed their unique forms of music and especially our gracious hosts, the Ivanhoe Artist's Mosaic, who run the Ivanhoe Wheelhouse and make it available to cutting edge arts programs like musiXplore. We couldn't do it without you!
Here is the piece with which Nicolas wrapped up the evening, a wistful paean to the end of spring:
There is plenty of other video of this day on Youtube: Scott Patire's Something Just Don't Seem the Same, The Drones and a third piece, Symmetry's techno revery and Nicolas Melmann's pieces number one and number two.
Our special Friday night mini festival celebrates the longest day of the year with free experimental and electronic music from 6pm to 10pm on June 21. We are presenting musicians from around our area plus a special appearance by Nicolas Melmann who is on tour from Argentina.

This presentation is our contribution to the international Fête de la Musique festival. In 450 cities around the world, musicians will be playing free outdoor music on the same day. Click here to read the posting of our event in French.
We hope you'll drop by the Ivanhoe Wheelhouse at 4 Spruce Street in the historic district of Paterson and listen for a while!