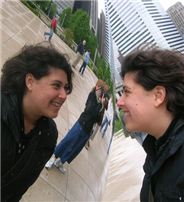 Keren Rosenbaum is a choreographic composer, cello performer, interdisciplinary musician and an educator, born in Israel in 1970. She started composing music at the age of seven, and later graduated from the Royal Conservatory in Den Haag, Holland. She is founder of the Reflex Ensemble, a unique collective of classical musicians, jazz musicians and actors, as well as lighting, sound, photography and video artists, all from Israel, Europe, and the US.
In her compositions, Rosenbaum employs pre-recorded soundtracks, live electronics, contemporary notation, and her signature "Invisible Score" conducting-via-earphones technique. While structured and choreographed, the music allows for a degree of freedom that both provides room for personal expression and demands a higher sense of aesthetic responsibility from each performer.
Read more about Keren and view videos of performances at her web site.
Keren will be joined by clarinetist Carlos Cordeiro. This show is a benefit for Rwanda Youth Music, joint effort between Musicians Without Borders and WE-ACTx to train HIV+ Rwandan youth to become music workshop leaders in ongoing weekly programs run by WE-ACTx for hundreds of HIV+ children in Kigali.
2 Responses to "Keren Rosenbaum – February 17"