At our February 17 concert, we talked about the Make Music New Jersey program. This is part of a free celebration of music-making that takes place on June 21 every year in over 450 cities world-wide. All concerts are free and outdoors (weather permitting) and participation is open to both amateur and professional musicians.
MusiXplore is participating with an evening of music on the patio of the Ivanhoe Wheelhouse. Since the 21st is a Friday this year, we'll run from 6pm to 10pm. If you are an experimental musician or band and would like to play, please contact us at info@musixplore.org.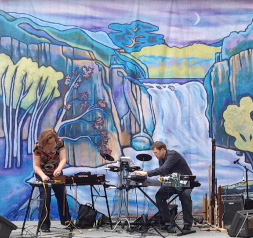 If you have a space where you would like to host an outdoor concert or show, you can be part of the celebration too. It could be your front yard or the sidewalk in front of your apartment. Of course, you should let your neighbors know. Maybe you want to organize a concert in your town square.
Make Music New Jersey is here to help you make it happen. Visit the web site here. You can subscribe to the site (link a the bottom of each page) to get news about what shows are happening, or you can click on the Contact Us tab to send a message about what kind of show you would like to host.
This is all about music by the people and for the people, so the more folks get involved, the more fun it will be.