Sunday, October 19 is the first show of our third season, and we're kicking it off with the amazing improvisors of Zinc Nine Psychedelic! Out of the hundreds of amazing musicians in New Jersey, this trio is near the top of the heap. They mix acoustic instrumentation with electronic treatments, they have mad playing skills, wild imaginations and they've played with everyone in the NY experimental scene. This is going to be fun!
Guitarist Nick Didkovsky founded the rock band Doctor Nerve in 1983, the metal band Häßliche Luftmasken in 2011, the metal band Vomit Fist in 2013, and is a member of the Fred Frith Guitar Quartet. He has composed for Bang On A Can All-Stars, Meridian Arts Ensemble, ETHEL, and others. His compositions and guitar work appear on over 50 records.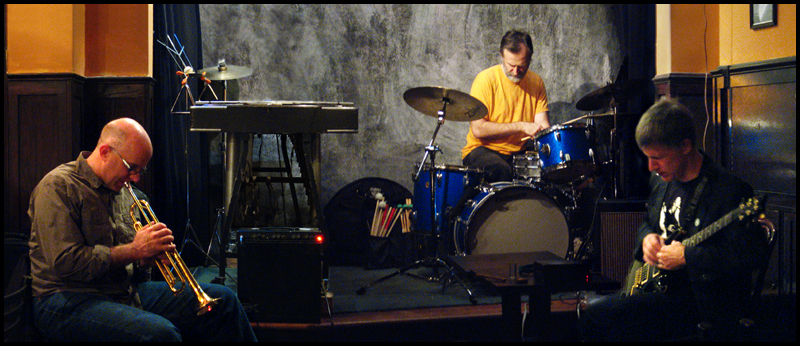 On percussion, ZNP features Kevin Norton. Kevin has performed and recorded with a wide array of musicians — from Anthony Braxton and David Krakauer to Milt Hinton and Fred Frith. His compositions are featured on several recordings, both with his own as well as other ensembles.
Sound Sample of Diffraction Sound Sample of Seeing Stars
Sound Sample of Electricity
The high note of this trio is the trumpet player, Dave Ballou. Dave has released nine internationally recognized CD's as a leader and co-leader. He has performed or recorded with ensembles led by Michael Formanek, Denman Maroney, Maria Schneider, Andrew Hill, Dave Liebman, Oliver Lake, Joe Lovano and many others.
Here are a couple of reviews of their self-titled CD:
Review by Beppe Colli on Clouds and Clocks
Review by Bruce Lee Gallanter of the Downtown Music Gallery