On February 15 at 1:00pm, musiXplore is proud to present avant-classical duo Naked Roots Conducive is composed of Valerie Kuehne on cello and vocals and Natalia Steinbach playing violin and singing. The two combine their unique compositional styles in an intricate classical odyssey thickened by vocal harmonies and extended instrumental techniques. Naked Roots Conducive fuses performance art with hungry post-Romanticism and acoustic noise while maintaining an intense melodic beauty.
Percorsi Musicali has this to say about their work: "Naked Roots Conducive took the art song into the twenty-first century with a surreal song cycle that may well embody the founding myth of a new, benign non-religion. Using conventional and extended technique on violin and cello to accompany voice, a pile of plush fish and Mr. Bacon from China–a green, fuzzy, mechanical toy pig–they sang of new deities of birth, rebirth and interconnections through roots real and hallucinatory. And possibly made a number of converts on the spot."
Here is one of the cuts from Naked Roots Conducive recent EP:
There will be an opening set by ArtCrime.
Unfortunately, Dean Poulsen has had to cancel his January 18th musiXplore concert. Please stay tuned to news about our February 15 show featuring Jody Redhage and Valerie Kuehne.
From our December 14, 2014 show, Nelson/Patton plays Hiawassee.
You can view the entire show from this link
Though this duo was a late addition to our season, their December 14 show promises to be a highlight for the year. Dave Nelson plays bass trombone with everyone from David Byrne to Sufjan Stevens to St. Vincent. Percussionist Marlon Patton keeps the beat, but also lays down grooves with his Moog bass pedals. Expect some chill sounds. Here's a recent video of Dave Nelson soloing at BSP Lounge in Kingston NY:
You can also preview some of their tracks at this page. This show will also be a holiday meet and greet for the Ivanhoe Artists Mosaic, so don't be surprised if there is egg nog and cookies!
Here is video of the third part of Sumari's concert at musiXplore on November 16, 2014.
You can view the entire show from this link
Free jazz with banjo and bass clarinet? That sounds like our Nov. 16 concert with Sumari, a trio with deep roots in New Jersey. The timing is perfect, as they've just released a new recording on the Unseen Rain label.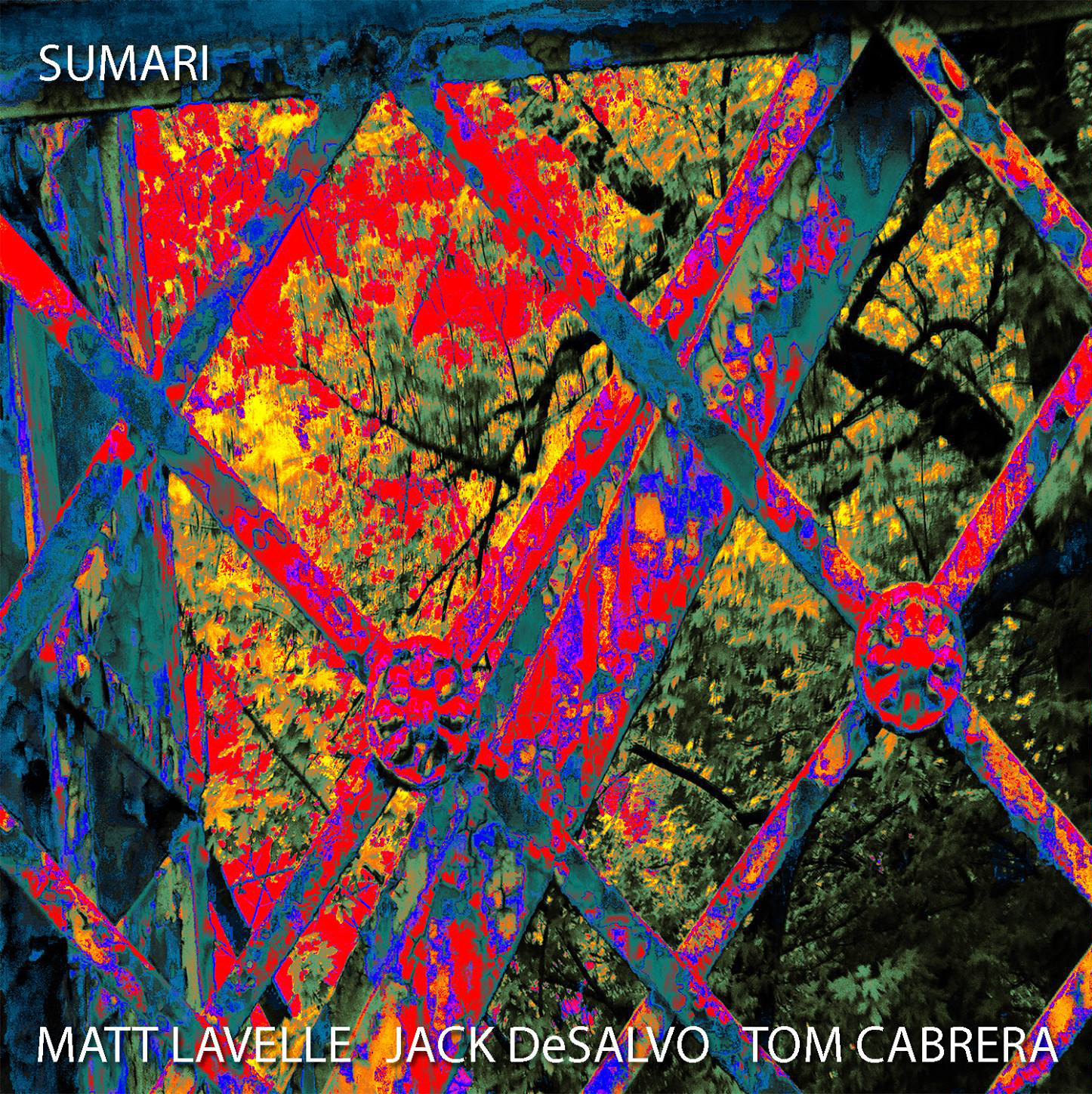 Let's start with Matt Lavelle on trumpet, flugelhorn, alto and bass clarinet. It's rare that you see a player doubling on brass and woodwinds, but this unique ability gives the group a wide range of timbres that you don't often see in a jazz context.
Matt was born in Paterson, so this will be something of a homecoming for him. He has recorded 4 albums as leader and a dozen as a sideman. He has played and collaborated with Ornette Coleman, Giuseppi Logan, Hildred Humphries, William Parker, Eric Mingus, Sabir Mateen, Roy Campbell, Daniel Carter, Jemeel Moondoc, Mat Maneri, Ras Moshe, Potato Valdez, and many others.
For even more sonic variety, Jack De Salvo brings guitar, banjo and mandola skills to the ensemble. Jack began at Berklee, but soon found himself synthesizing jazz and classical approaches to playing and composition. He's played with a panoply of musicians from the 70s-80s NYC loft scene: Karl Berger, Bruce Ditmas, Peter Brötzmann, The Decoding Society and many more.
In addition to being an incomparable jazz drummer, Tom Cabrera is an adept world percussionist, often adding to the proceedings instruments from all over the planet, particularly the middle-east.
Here's their latest release on iTunes, where you can listen to selections:
Sumari – Matt Lavelle, Jack De Salvo & Tom Cabrera
…or on Amazon:
Sumari – Matt Lavelle, Jack De Salvo & Tom Cabrera
The opening act will be ArtCrime
Zinc Nine Psychedelic playing some amazing improvisations at their Oct. 19 concert. Each member brought their A game for their genres and mixed it into something entirely new. The video below is their encore.
You can view the entire show from this link
Sunday, October 19 is the first show of our third season, and we're kicking it off with the amazing improvisors of Zinc Nine Psychedelic! Out of the hundreds of amazing musicians in New Jersey, this trio is near the top of the heap. They mix acoustic instrumentation with electronic treatments, they have mad playing skills, wild imaginations and they've played with everyone in the NY experimental scene. This is going to be fun!
Guitarist Nick Didkovsky founded the rock band Doctor Nerve in 1983, the metal band Häßliche Luftmasken in 2011, the metal band Vomit Fist in 2013, and is a member of the Fred Frith Guitar Quartet. He has composed for Bang On A Can All-Stars, Meridian Arts Ensemble, ETHEL, and others. His compositions and guitar work appear on over 50 records.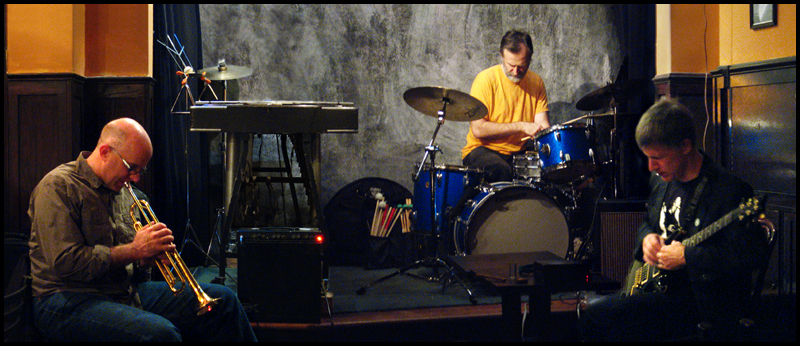 On percussion, ZNP features Kevin Norton. Kevin has performed and recorded with a wide array of musicians — from Anthony Braxton and David Krakauer to Milt Hinton and Fred Frith. His compositions are featured on several recordings, both with his own as well as other ensembles.
Sound Sample of Diffraction Sound Sample of Seeing Stars
Sound Sample of Electricity
The high note of this trio is the trumpet player, Dave Ballou. Dave has released nine internationally recognized CD's as a leader and co-leader. He has performed or recorded with ensembles led by Michael Formanek, Denman Maroney, Maria Schneider, Andrew Hill, Dave Liebman, Oliver Lake, Joe Lovano and many others.
Here are a couple of reviews of their self-titled CD:
Review by Beppe Colli on Clouds and Clocks
Review by Bruce Lee Gallanter of the Downtown Music Gallery
Oops! A last-minute change to our schedule: there will not be a September 21, 2014 show. In its place, we are presenting an intriguing duo Nelson Patton from the Hudson Valley on December 18, 2014. They use the sounds of effected, looped trombone along with drums and Moog pedals. As their web site explains, "The result is a psychotropic experience as their compositionally-minded soundscapes transport you to a higher state of consciousness."